BACHELOR OF PHYSIOTHERAPY COURSE
GENERAL INFORMATION
Bachelor of Physiotherapy course is a practical oriented course where students have to perform hands on training along with regular theory classes. Keeping this vision, NIHS has clinical association with super-speciality hospitals in Kolkata.
INFORMATION RELATED TO ADMISSION
The admission process is very simple and you can take admission sitting at home also. Interested candidate can download the application form from the NIHS website, and fill it up, attach relevant documents and send the same along with a demand draft of Rs.1000/- (Rupees One Thousand only) to the institute postal address. After receiving the application form and scrutiny of application form you will receive call from the institute confirming your admission. Once your admission is confirmed you have to submit the admission fee of Rs. 10000/- (Rupees Ten Thousand Only) by demand draft only. The demand draft will be in the name of Nopany Institute of Healthcare Studies and payable at Kolkata. Though the institute always advices the parents to visit the campus before confirming the admission.
STUDENTS FROM NORTH-EASTERN STATES
It is advisable for the students of North East to not take admission through any educational consultant, as we do not have any such educational consultant in North East. Our team visits the state of Mizoram on the last week of April ever year and participate in the Edufest at Millennium Plaza. Students also can call directly to the college numbers or email us for any query. Please do collect your migration certificate from the your +2 school
STUDENTS FROM JHARKAND AND BIHAR
Student after passing the 10+2 examination from a recognised board can apply for the admission. They can directly call our office or email us for any query.
STUDENTS FROM MINORITY COMMUNITIES
Nopany Institute of Healthcare Studies is recognised by the West Bengal Minority Development and Finance Corporation for its all courses. Student from minority community are eligible for merit cum means scholarship and education loan promoted by National Minority Development and Finance Corporation. A student has to secure at least 50% marks in the entire subject to seek the scholarship and educational loan.
OVERSEAS STUDENTS INFORMATION
The Government of India has framed Rules and Regulations regarding Student VISA. Interested candidates are requested to contact info@nihs.ac.in & nihs.edu@gmail.com
UNITY IN DIVERSITY
NIHS attracts students neightbouring states as well as countries. We are proud of our diverse student population.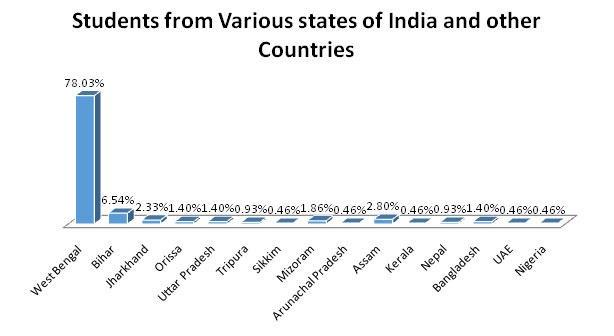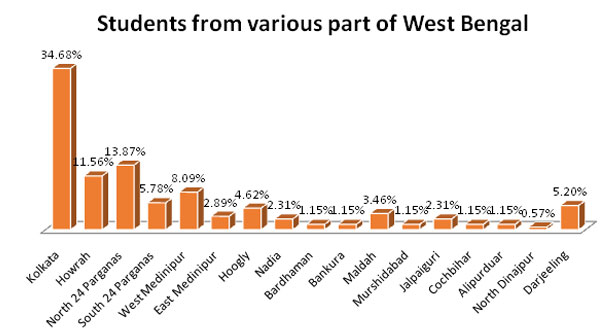 STUDENT DRESS CODE
BOYS
GIRLS
WEEKDAYS
Formal shirt half or full sleeves.
Formal trousers.
Leather shoes.
Salwar Kameez
Trousers with long top (below hip level).
WEEKENDS
Casuals
Casuals (jeans etc) with long tops (below hip level)