Nopany Institute of Healthcare Studies (NIHS) is a premier institute of physiotherapy situated at Kolkata. Every year to celebrate World Disability Day (3rd December) Nopany Institute of Healthcare Studies in association with Rotary Club Of Calcutta Chowrenghee organize free physiotherapy camp to serve the disable people of society.
Phase 1
This year NIHS conducted a free physiotherapy camp on 22nd November 2015, at Ghotalahat, a small village located in the district of South 24 Parganas. The camp was organised by Rotary Club of Calcutta Chowrenghee within the campus of a school. 106 patients from different villages attended the camp. The camp commenced from 10:00 am and the faculty members of NIHS assessed interesting clinical cases ranging from Leg-length discrepancy, Cerebral Palsy, Delayed Milestones, Rickets, Post Polio Residual Paralysis, Malunited fractures, Hemiparesis, Amputation, Spinal Cord Injury, Congenital deformities and Mental retardation. Mobility aids like Axillary crutches, Ankle Foot Orthosis, Elbow Crutch, Walker, Tripod Cane, HKAFO, KAFO, Upper limb Prosthesis, Lower Limb Prosthesis, Shoe Modification, Tricycle and wheel Chair were prescribed according to the requirements. These mobility aids will be given to the prescribed person free of cost. Exercises and advice were also given and they were referred to the respective Government hospitals for regular treatment.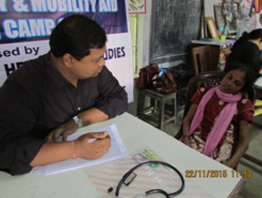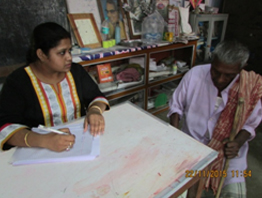 Phase 2
On 29th November 2015, NIHS conducted another On-campus Free Physiotherapy Camp in association with Rotary Club of Calcutta Chowrenghee. 215 patients were consulted by faculty and MPT students of NIHS. Local Counselor Mr. Rabindranath Chattopadhay also visited the camp and encouraged our activities. Exercises were demonstrated to the patients by BPT final year students. All the patients seen at camp have continued to come at Nopany Physiotherapy Clinic for free physiotherapy treatment for seven days. Mobility Aids like Wheel Chair, AFO, Cock up Splint and Tripod cane were also prescribed according to the requirements.