LANGUAGE SUPPORT
All students are expected to have a certain command on the English language before commencing any academic programme. For those unable to attain these levels, NIHS conducts English classes by trained faculty. These match their deficiencies & enable them to raise their levels on par with others.
STUDENTS ADVISORY SERVICE
An Advisor from the Admissions Office or Faculty is responsible for students. All new students are interviewed individually by the Advisor during the first month of each academic year! The Advisor is also available later for personal and referral services.
ACADEMIC COMMITTEE
A specially constituted Academic Committee meets on a month-to-month basis to study the allocation of time for each stream, planning of internal assessment, seminars, inviting guest lectures, performance of individual faculty, staff appraisal, identifying students who require assistance and planning steps to augment their studies, preparation for examination, revision classes, special tutoring, etc.
PLACEMENT COMMITTEE
NIHS has its own placement committee. The Committee carefully follows the recruiters through their advertisements, contacts and linkages. They also help students prepare their resumes to suit job needs, preparing them to face the interviews and follow up with employers.
Besides recruitment-related activities, hospital administrators are welcomed to visit the institute and meet faculty members for exploring new areas of collaborative research and consultancy projects.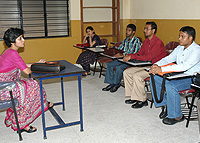 DISCIPLINARY COMMITTEE
Discipline is the foundation of learning. At NIHS, utmost emphasis is laid on discipline. The committee, with members comprising of students and faculty, monitors maintenance of discipline in the campus - corridors and classrooms alike. It takes notice of the stray incident, keeping a watchful eye on any anti-social activity inside and outside the campus. Ragging is not permitted and stern preventive and corrective measures are implemented.